BPO vs Call Center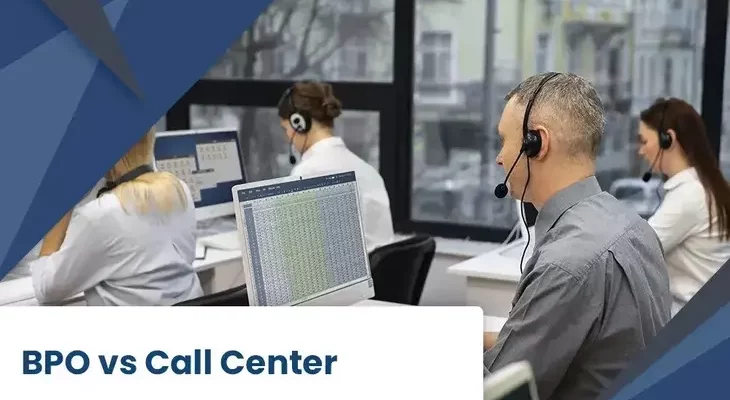 Do you also suppose that a BPO and Call Center are the same thing? They are not! Since BPO contracts to take responsibility for any function, a business wants to outsource. On the contrary, a call center services provider only takes care of the company's inbound and outbound telephone calls. Guess what! This was just a very short introduction to the differences between a BPO and a Call Center. Just keep reading, as a lot of interesting information on the two is coming your way.
BPO vs Call Center
Scope of work
A BPO (Business Process Outsourcing) has the resources to take care of any business function. Because it offers a cost-effective solution that many businesses including the big names rely on. An organization commonly outsources its payroll, accounting, customer support, and telemarketing to the BPO.
A call center is a subset of BPO. The scope is limited only to taking inbound and outbound calls. Hence if an organization is only looking to outsource customer support, telemarketing, or lead generation-related tasks, it will look to hire a call center services provider.
Number of Staff
You can guess it right that a BPO would have more people working for them. Because it usually gets to tackle technical issues for the organization. They have specialized teams engaged in dealing with different functions of the organization.
Comparatively, a call center services provider has a few people. But it also depends on the type of call center and the number of active clients it has. Sometimes a large call center's employees can even outnumber a medium-sized BPO.
Types
A BPO has five types, and we have introduced each one below for your understanding.
Back-office BPO
A BPO is termed a back-office BPO when it only accepts responsibility for the business's non-customer-facing activities. Such activities include human resources, IT, and others. Organizations outsource them because they want to concentrate on their core. Rather than focusing on supporting activities, they invest their time and effort in improving the quality of their product or services.
Front-office BPO
If a company wants to outsource customer support, marketing and sales, it will look to hire a front-office BPO. Businesses will look to outsource customer-facing activities because they lack skills or technical knowledge. It is very common in new businesses as they don't have enough resources to maintain a separate department for each one of them. Hence, outsourcing them to a specialist firm is the most feasible option.
Offshore BPO
A company may also outsource one of its functions to BPO in another country to get the advantage of lower labor costs, tax savings, and more. Such a BPO operating in another country is called an offshore BPO.
Nearshore BPO
Nearshore BPO is contracting BPO services operating in geographically close countries. For example, a business in Canada outsources one of its functions to a BPO in Mexico or the US.
Onshore BPO
Just as you can guess, it is the process of outsourcing a function to a BPO operating in the same country.
To this point, we hope you are comfortable with the five types of BPO. Let's now move on to the short introduction of six types of Call centers.
Types of Call Centers
Inbound call centers
Such a call center services provider only deals with incoming calls for an organization. Customers usually initiate these calls for inquiry or support. A company needs someone to take care of these calls since they play a large role in customer satisfaction. Dealing with one or two such calls is not an issue, but large organizations receive thousands of them daily. Hence, they look to consider the call center outsourcing.
Outbound call centers
Organizations want to reach out to potential customers via telephone. The purpose is to make sales or spread awareness about the product or service, telemarketing, and others. Call center services providers available to contract for the same are known as outbound call centers. This is a very common purpose businesses will want to hire an outbound call center because they need experts to reach out to potential customers on their behalf.
Contact centers
Such call centers use other means to communicate with customers in addition to the phone. Emails, social media, and faxes are some of the many ways they can take care of inbound and outbound responsibilities. You can say that contact center services are an advancement of the traditional call centers.
Omnichannel call centers
These call centers also rely on multiple channels for inbound and outbound tasks. They are different from contact center solutions because they let customers switch between various communication channels.
Virtual call centers
A virtual call center services provider employs staff remotely. Most of their staff are connected to the call center software via the internet. This setup is cost-effective for call centers, and hence many of the best call centers are now shifting to this.
Automated call centers
Call centers that use a computer-based system to deal with the different inbound and outbound calls are called automated call centers. They only have a few people to deal with the tasks that those automated systems can't perform.
Cost
Just as we know that BPO has specialized teams of experts ready to take care of different business functions; hence, they will charge more based on the time and effort they put in.
In comparison, call centers may have fewer operating costs with a few employees. Therefore, they will charge less than a BPO. But it also depends on the size and reputation of a particular call center services provider. For instance, a well-reputed call center may charge more than a BPO based on the results it is producing.
Take away
People generally consider a call center and BPO the same thing. But they are actually very different. Since a call center services provider only deals with the incoming and outgoing phone calls of the organization. At the same time, a BPO is available to take responsibility for other business functions as well.
This blog post was all about letting you know about the key differences between a call center and a BPO.
We really hope that you have enjoyed reading this informative article. If you think we have missed including something, please comment or write to us on our official email.