Best Call Center Outsourcing Companies in the USA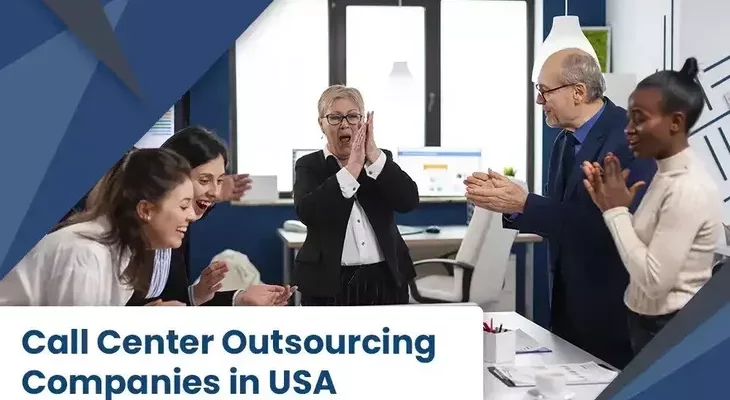 Are you on the hunt for the best call center outsourcing companies in the USA? Perhaps you have decided to outsource this vital business function. Rightly so, as you can't be the jack of all trades. Whereas outsourcing also keeps your resources focused on the strength. So, without further ado, let's jump straight to knowing the best companies you can count on in the US to outsource your outbound and inbound calling responsibilities.
What to Look For When Choosing An Outsourcing Company
Things you should consider before reading the list of best outsourcing companies in the USA
Ascertain your purpose
Determine what you would like a call center to do for your business. Are you looking for experts to carry out your telemarketing tasks, or do you need professionals to hear out your customers? Answering these questions will help you decide between the outbound and inbound call center outsourcing you need. Similarly, should you stick to the call center, or may you consider hiring a contact center? 
Full outsourcing or partly outsourcing
You can choose to outsource the entire call center function. Or you may want to take care of a few crucial tasks yourself. Like assigning telemarketing tasks to a call center and taking customer query calls on your own. It would be best if you considered different factors when landing on a decision. Simply to avoid spending too much on outsourcing when it's not needed at this stage.
8 call center outsourcing companies in the USA
One of the top-rated call center services providers in the USA. It has a good track record of success with both the inbound and outbound contracts. Slightly newer to the others in the list but it is making its name because of the high-quality services. You can trust the highly-skilled team of All-Star BPO to take care of your business's inbound and outbound calling responsibilities.
Teleperformance
This one's a French Omni Channel Company serving businesses across the USA and outside. Many of the renowned businesses operating in the US are relying on Teleperformance for outsourcing their call center function. It commonly helps organizations with inbound and outbound call center support. Teleperformance is renowned for highly skilled in-house staff attracted by competitive salaries, employee wellness, and more.Probably the best call center USA has!
Sykes Enterprises
You'll often read this name when scrolling the list of top contact center outsourcing in the USA. This American Multinational has skilled teams to take care of your business's inbound and outbound calling responsibilities. Commonly, businesses hire it for customer service outsourcing and other inbound contact center support. It also attracts the best talent because of the compensation and resources it offers to its employees.
DialAmerica
This one's a bit older than the other in the list, as its incorporation goes back to 1957. As you can expect, DialAmerica has a long list of well-established clients acquiring contact centers and other solutions. You can fully or partially outsource your business call center to Dial America if you need the best talent to take care of it. Most commonly, it offers B2B, and B2C, among other services. At the same time, it is well known for highly competitive compensation and fast advancement to growth. Hence it got teams of highly talented individuals.
Nextiva
This one's slightly newer as compared to the others in the list. But, it has more than 2000 employees engaged in offering the best outsourcing support to businesses around the globe. As you let it take care of your business call center, you get the best men working on your organization's outbound and inbound calls. Many organizations around the globe are trusting Nextiva's agents for customer service representatives, database administrators, success account managers, and more.
Alorica
It has been in the business since 1973 and has a track record of success with different clients around the globe. Most well-known US businesses rely on Alorica for various inbound and outbound contact center solutions. It is also commonly hired in the US for customer support and telemarketing responsibilities.
Fusion BPO
Over 40 clients trust Fusion BPO for various call center services. It has a diversified team of experts ready to take on your business's inbound and outbound call center responsibilities.
Five Star Call Centers
Another big name for inbound and outbound call centers businesses trust in the US. It has a long list of clients acquiring different call center solutions. Organizations commonly trust it for customer support representatives, network administrators, and more.
Why should you outsource your call center function?
Yes, you are allowed to vote against contact center outsourcing. Calling it something you can't fully control. But this is sometimes all you need to get ahead of your competitors. Outsourcing brings so many advantages to businesses. Particularly, new businesses need more skills and resources to stay on the run. Here's why you should think of outsourcing your call center function.
Lack of resources
You don't have enough resources to recruit the best talent. Outsourcing allows you to get the best talent to work for your business for the time being you need.
Keeps you focused on what matters the most
Often at times, businesses get to indulge in taking care of support activities. In doing so, they fail to devote proper time to their strengths. Hence, they struggle to find their feet, particularly when they are new in the industry. Call centers take responsibility for most support activities, setting their resources free to use on the core.
Improves the output
Since you get more time to concentrate on your strength, your product or service quality improves as you go for call center outsourcing. Plus, with the call center, you get highly trained call center agents to take care of your inbound or outbound responsibilities.
Hence, in a nutshell, it plays an integral role in business success.
Take Away
Since thousands of call center outsourcing companies operate in the US, it isn't easy to find out which would suit your purpose the best. You may be looking for the best contact centers for inbound calls or will want professionals to do some lead generations for you. That's why we felt the need to list down some call center names that you can consider for outsourcing any of your call center responsibilities. We have also precisely explained why a business should go for outsourcing your call center.
We hope that you have enjoyed reading the write-up. Furthermore, if you still feel we need to include something here, please comment or write us on our official email.